FastGrafter®
Autograft Harvesting System
Fully-sterile system for quick and efficient harvest of autogenous bone
About FastGrafter®
Autograft Harvesting System
The FastGrafter® is a sterile-packed, singe-use device for quick and efficient harvest of cancellous autogenous bone from the calcaneus, distal tibia, and other harvest sites through a minimal incision approach.
Fully-Sterile System
for quick and efficient harvest of autograft bone
Single-Piece Harvester
designed to reduce instrumentation and system complexity
Morselizing Cutting Tip
penetrates cortex and morselizes bone during harvest
Key Surgical Steps
Calcaneal Autograft Harvest
1. Incision & Dissection
Make a small incision over the lateral aspect of the calcaneus, posterior and inferior to the peroneal tendon and sural nerve, approximately 3cm below and 2cm posterior to the distal fibula. Use blunt dissection to expose the bone.
2. Bone Graft Harvest
Insert the FastGrafter® Harvester into an AO attachment on powered driver. Place the cutting tip of the Harvester onto the exposed bone surface. Beginning at low speed in forward direction, advance the harvester to the desired depth.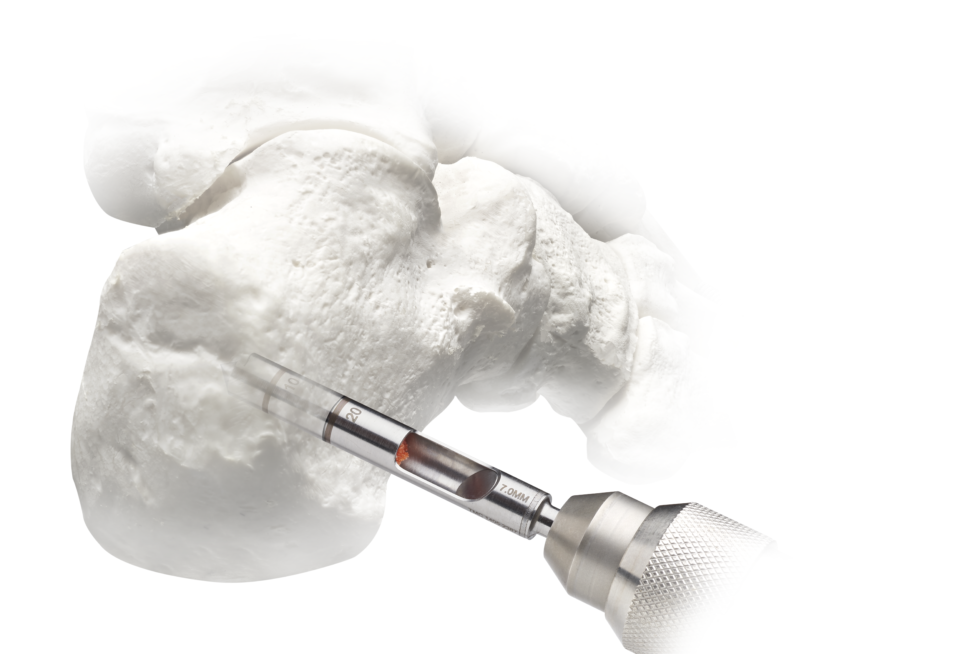 3. (Optional) Additional Bone Graft Harvest
Reinsert the Harvester tip into the original harvest site and make a pass approxinately 20-30 degrees from the original harvest path.
4. Removal of Morselized Bone Graft
Disassemble the Harvester from the driver. Over a sterile container, insert the Pusher through the distal tip of the Harvester to expel the morselized graft through the proximal opening of the Harvester.
Lapiplasty® 3D Bunion Correction™
The Leader in 3D Bunion Correction1,2
Lapiplasty® 3-Plane Correction at the CORA is an instrumented, reproducible approach to triplanar correction with rapid return to weight-bearing(typically 3-10 days in a walking boot).3,4